created on Mon, 2012-11-26 12:31
Last edited on Mon, 2021-12-27 23:34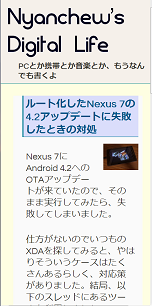 I had been a proper use for the two themes for the desktop and mobile on this site, I decided to use the theme that Responsive Design is possible.
Previously, the host names for desktop and mobile are different, and access from mobile terminal is redirected to a URl for the mobile. It is stopped now.
The following is a summary of the work, it was surprisingly easy.
1. Selection of themes for Responsive Design
This site is built with Drupal. I was using the (sub) theme of Zen 3.x so far. 3.X version does not support Responsive design, but 5.X supports it. I decided to use Zen 5.X by upgrading the same theme. It seems to be good to use the same theme. However, during the transition, I had to use other theme because 3.x and 5.x can not coexist.
2. Advance preparation
I rewrote the templates files and various CSS files in advance before the actual migration. I did the almost same thing to Zen 5.X default templates, CSS, and other files as what I did to Zen3.X files. Once created Zen 5.x sub-theme in the working folder as the new sub-theme of Zen 5.x. Then I put each peace of Zen 3.X modifications to .info, templates, CSS files, and others.
3. Migration theme
While operation in a different theme, I replcaed the Zen 3.x sub-theme with 5.X sub-theme. After Zen 5.x was installed, set the theme to the newly created Zen 5.x sub-theme as the default WEB theme.
4. Adjusting the appearance
Without critical error, new theme works smoothly. With displaying on different size of screen, or on mobile devices, I continue to adjust the CSS to look good on any screen.
I addition, in order to show / hide the block depending on the size of the screen, I wrote small JQuery scripts. It's a first time to write javascript, but it was easy to write simple script just determining the screen size and do hide().
URL for mobile is no longer needed, I stopped the setting of redirect to the mobile URL when it is accessed from a mobile device, then add a setting of redirect to the desktop URL when it is accessed by old mobile URL.
The purpose of the work is to make it easier to manage in a single theme and host name URL to access, so WEB design is the same as before. It is not a full-fledged Responsive design, it looks almost unchanged. Advantages of Responsive design is not fully utilized now.
I need a re-design from scratch if I want to make trendy design such as small blocks move dynamically.